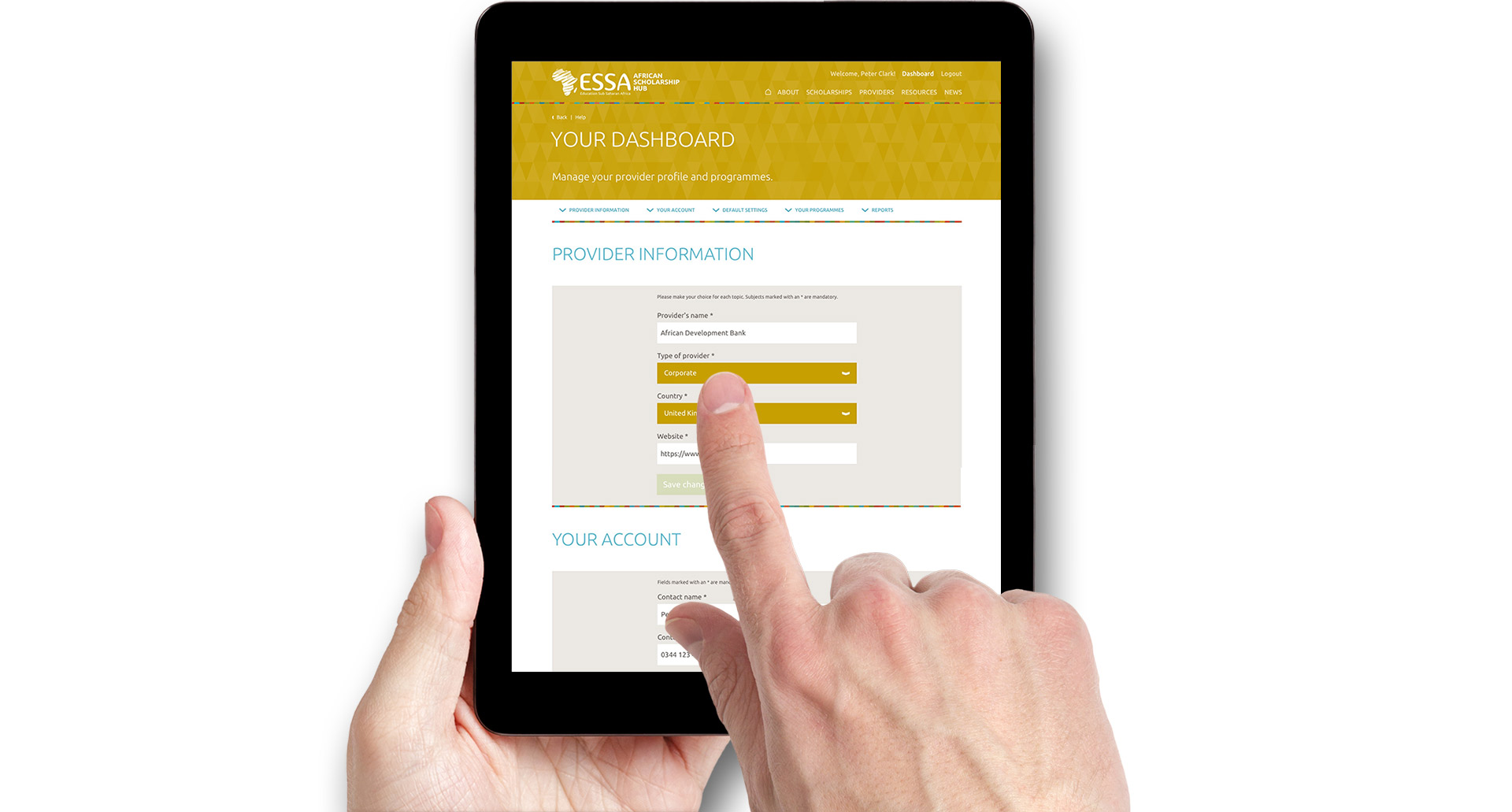 The African Scholarship Hub is an online portal which brings together students and providers of scholarships into one central scholarship portal.
Our aim is to make it easier for scholarship providers to market their scholarship programmes and to help students research scholarship opportunities and find relevant information about applying for scholarships.
The Hub is free to join for students and providers. It consists of:
Scholarship database in which
providers present their scholarship programmes

students can search for programmes that match their preferences
Website containing further information, e.g.
students sharing their success stories

list of participating scholarship providers

useful resources (first-hand advice and tips).
Read about the scholarship database features and find advice below.
If you have a specific question you can check the below "Frequently Asked Questions" (FAQ) section or contact us.
By participating you accept our terms and conditions.
---
Registration & Log in
Currently, you cannot register by yourself (self-registration is an upcoming feature). In order to participate please contact our team and send your details. We will add your provider data and scholarship programmes.
Following this you will receive an email which contains a link. Click the link to complete the registration. You will be redirected to your personal dashboard.
As a registered user you can access your dashboard via the "Log in" link in the database header.

---
Your Dashboard
On your personal dashboard (registration required) you can find and edit:
Provider information

Account details

Default settings

Your programmes.
As a registered user you can add scholarship programmes that will appear on your dashboard. You can edit, publish or remove them anytime.
A strong password will be automatically created by the application. You can change the initial password in your account details on your dashboard.

---
Add scholarships
At the bottom of your dashboard, click on "Add new programme".
Fill in details in the according fields of the form. Subjects that are marked with an * are mandatory. Grey form elements are optional.
After you have completed the form you can preview, save, publish or remove the programme at any time.
You can find your programmes at the bottom of your dashboard. To edit click on one of them.
If you would like to see available programmes from all providers (including yours), click on "View all programmes" at the bottom of your dashboard.
---
Reports
To check your programmes' performance select one of your published programmes at the bottom of your dashboard. Scroll down on the programme details page and click on "Open provider report". You can download an Excel file that sums of this programme's performance.

Excel reports contain accumulated amounts for the following attributes (based on programmes that have been saved by students):
Academic subject, level of study, place of birth, citizenship, country of residence, gender

Programme preferences: level of funding, place of opportunity

Number of students who have saved the programme / clicked on "Contact" / clicked on "Provider's URL"

Number of (registered / unregistered) users who clicked on "Search".